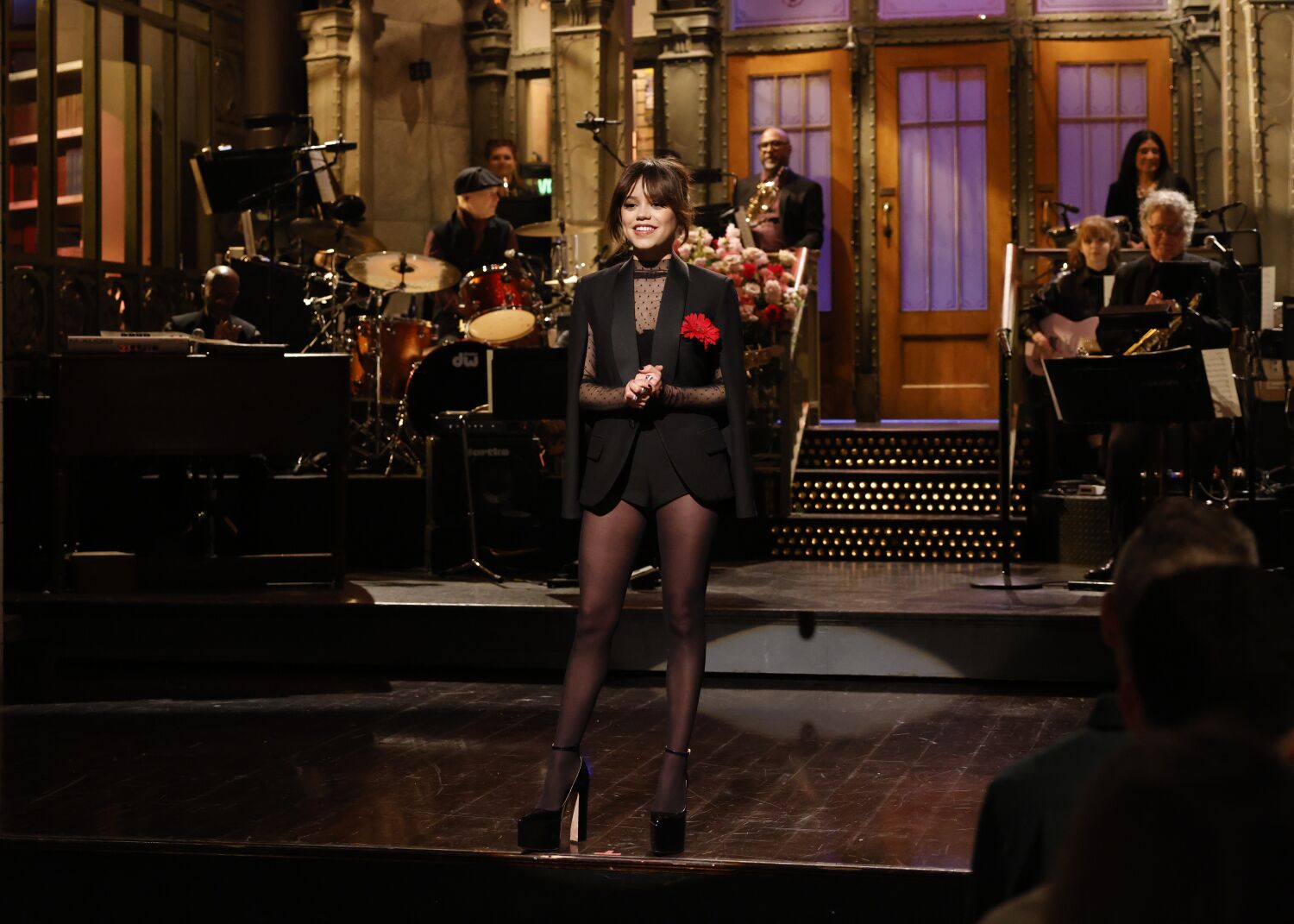 Jenna Ortega, the star of Netflix's breakout hit "Wednesday" and most recently of "Scream VI," made her debut as host of "Saturday Night Live," alongside musical guests The 1975. Ortega was featured in sketches that played into her dark-twisted-girl persona, including an "Exorcist" takeoff, but she was also bright and charming in sketches parodying "The Parent Trap" and the dysfunctional relationships between X-Men characters on a "Family Feud"-style game show.
But first, the show's cold open took a break from politics and news to preview Sunday's Academy Awards ceremony. Heidi Gardner was Maria Menounos or Kit Hoover ("They haven't told me which yet.") and Marcello Hernández was Mario Lopez, interviewing nominees and others on the red carpet. Chloe Fineman nailed an out-past-her-bedtime Jamie Lee Curtis, who was overly excited about everything, and thrilled to be there: "I sold yogurt that made you poop and now I'm nominated!"
Mike Tyson (Kenan Thompson) showed up as this year's head of security, promising to keep last year's lead actor winner and notorious slapper Will Smith away, saying he is being tracked via an Apple AirTag.
Best jokes of the opener: a reference to the awkward pan-down to women's feet during these types of shows, and George Santos (Bowen Yang) pretending to be Tom Cruise. His sign-off: "Now if you'll excuse me, I have to go be everyone everywhere all at once."
In her monologue, Ortega discussed her reputation for being dark and spooky; she joked that she has a face that makes filmmakers say "Hey, let's throw some blood on that!"
She reminded the audience that she's been acting for a long time; a clip of a Colgate commercial she shot when she was nine showed Kid Ortega fighting off germs in a bathroom sink. Ortega said that the same very cute commercial can be recast as scary with a little bit of editing. The resulting clip was indeed hilariously dark and twisted. What's not dark and twisted? "SNL" cast members, whom Ortega characterized as, "Happy, extroverted people who are always trying to perform."
Planted in the audience was Fred Armisen, an "SNL" alum and her "Wednesday" co-star, who was invited to join Ortega on stage (he later appeared in the "Parent Trap" sketch), but it was basically to say hi before launching into an origin story of his "Californians" sketches. Ortega interrupted him and shooed him off before he could get too far into the story.
Best sketch of the night: Sad stories derail 'Ridiculousness'
In case you're not familiar with it, MTV's "Ridiculousness" is a show where a panel of commentators watch viral videos and offer jokes and criticism. In this parody, Ortega plays a TikTok star, Lee Lee Two Times, who brings down the show by sharing sad tragedies that keep ruining the vibe for host Rob Dyrdek (Mikey Day). A video showing someone falling off a boat prompts Lee Lee to describe a maritime beheading. A cat video leads to a story about the birth of a litter of kittens so horrific that it stuns the entire panel. "It was not fire," Lee Lee says, "it didn't have a mouth so it was screaming from the inside like MMMGGGHHH! MMMGGGGHHHH!"
The reality of road trips with friends
This week's "Please Don't Destroy" video gets the writers out of the office for a road trip with Ortega, who says she needs a break from all her work stress. The four sing a catchy song about the joys of road tripping with your best pals before microaggressions, missed exits and Ortega slurping the last of her Big Gulp Slurpee ruin the trip for all involved. The bad vibes and a sudden violent road incident even earn the condemnation of a billboard Jesus.
'Weekend Update': James Austin Johnson's two-second impressions
One of this season's success stories has been James Austin Johnson's transition from online video star to key "SNL" cast member. His Trump and Biden impressions are uncanny, and in this short "Weekend Update" segment, he shows off some short-form impressions that he can't find any use for anywhere else. Among them: Adam Driver as his "Star Wars" villain Kylo Ren portraying his character Adam from "Girls"; rapper Jay-Z yelling to his wife Beyoncé from downstairs; and Bob Dylan's cellphone vibrating. Johnson even throws in a little bit of the Trump impression he'll have to do to get the attention of bartenders at the after party. It's more evidence that Johnson is one of the sharpest impressionists in comedy today.
Source link