On the Shelf
Hula
By Jasmin 'Iolani Hakes
HarperVia: 400 pages, $32
If you buy books linked on our site, The Times may earn a commission from Bookshop.org, whose fees support independent bookstores.
When Jasmin 'Iolani Hakes was 21, she was a single mom with inconsistent housing. But because she lived in Hilo, Hawaii, where she'd grown up, she would spend days with her small daughter on the beach.
"It was the only place that I could take her that was free," she tells me over video from her current home near the beach in L.A.'s South Bay. "And I just sat and watched airplanes and wondered where they were going … I came to this realization that I wanted so much to be a part of Hawaii, but I was getting in my own way. I needed to do something for my daughter besides just survive."
Hakes had never left Hawaii except through reading. In high school, she shelved books at the local library and read incessantly: not only Chinua Achebe and Toni Morrison but also thrillers, histories, how-to books about fixing a carburetor. But she never came across a life like hers.
"It wasn't just not set in Hawaii, it was the language we spoke, the things we cared about, the problems we were facing," she says. Books lacked a version of her experience, but then so did everything. "Even the Weather Channel," she says, "only gave the forecasts for Oahu."
Yet Hakes also didn't feel Hilo quite belonged to her. Like the main character, Hi'i, in her stunning new novel "Hula," Hakes felt like an outsider in her home. Lighter skinned than her friends and family, blue-eyed, she was teased (mostly, she says now, in good fun) and questioned about her Hawaiian-ness.
"Hula" is an intricately built novel that spans decades, moving in and out of a collective voice while also telling Hi'i's deeply personal and devastating story of trying to find her way. Hakes' path to publication was just as tortuous — more than a decade spent writing, scrapping and struggling, and that was before she had to navigate the complicated and myopic world of publishing.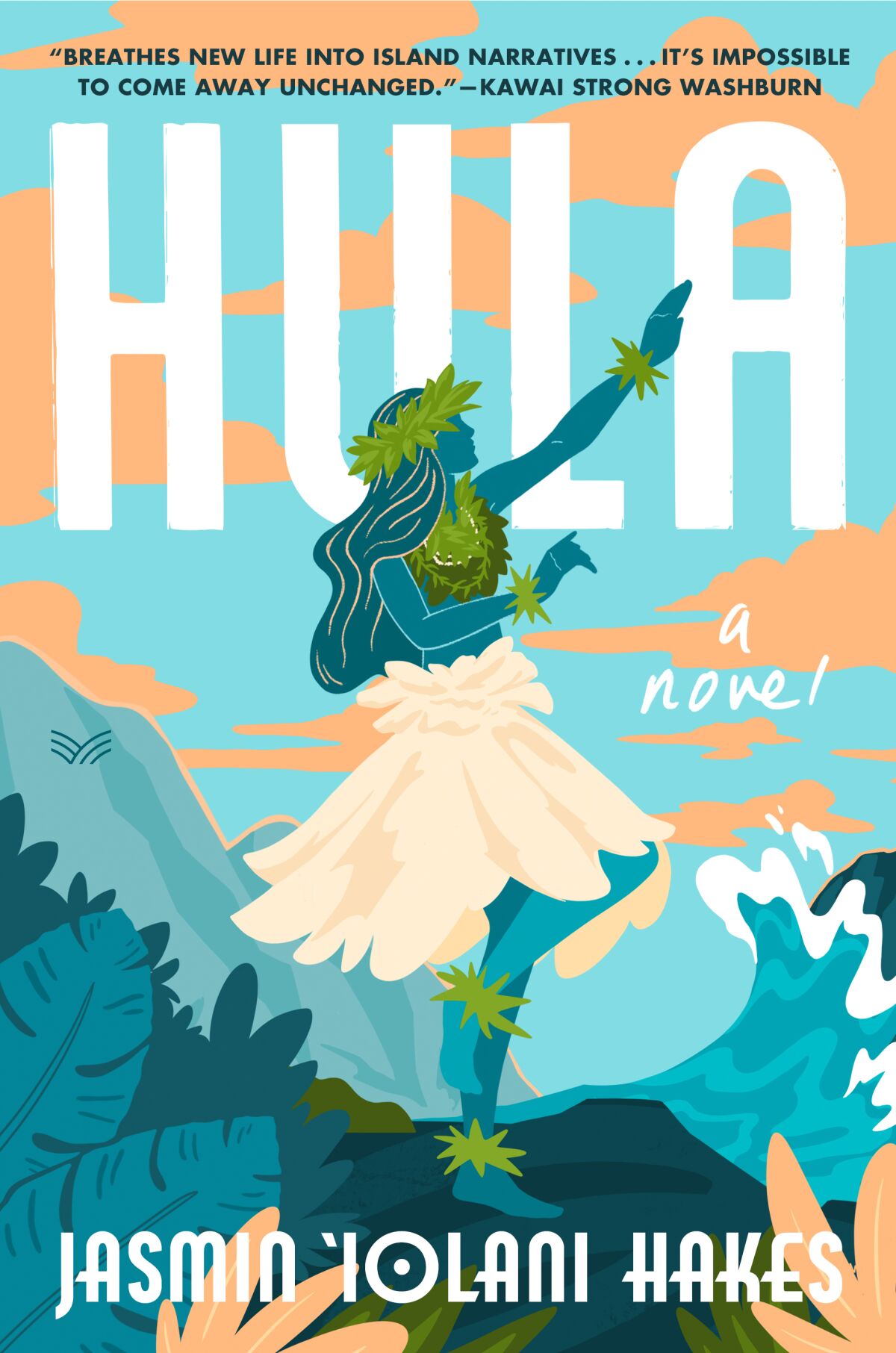 But first, Hakes left her home for California. Partly, she was tired of feeling like she had to prove she belonged. A young mom with a small baby, and then a second daughter not long after, Hakes struggled to raise her kids without the strength of her community. She alludes vaguely to past traumas, the loss of her beloved stepfather at age 12.
"When I had my girls, my desire to be as good a mom as I could be required me to go back to those things and look at my parents and their parents, and I started seeing these generational patterns," she says. "If I can make this into words, it's a horrible thing, but I can digest it, you know?" She started the novel not out of personal ambition but because "I was writing to try to survive."
With all the other, more material, needs that raising small children demands, this work came at no small cost. (She also became a development director, first for the Sacramento Philharmonic and then for a nonprofit in Long Beach.) "I always felt very guilty, like, 'Why do I need to do this?' It was a very, very tormented thing where it took up time, it took up space."
But it was for her daughters that she wanted to write about Hilo. Although they often saw her family back in Hawaii, when her daughters were small, they "knew nothing about where they were from," precious little about "something that's so rich in me."
She started at ground level, at least for her, by teaching them hula, which would also function as the scaffolding (and title) of her first book. It feels worth noting that this is not the hula of hotels or tourist ads but a deeply entrenched and sacred cultural practice.
"Hula was always there," Hakes says. "I always had this understanding that the only reason we had any culture was because of hula. We have an oral history, and so all of our events, our gods and goddesses but also our geological events, our volcanoes, were recorded through dance … Hula was what we all stood on."
One of the hardest things about knowing how little has been said about the place you come from, the place you want to write about, is the extraordinary pressure to get it right.
"I always had this accountability of, 'I'm writing about a very specific place, and they are very much paying attention, and if I am going to have this chance, I have to make sure this is correct,'" Hakes says.
For a decade, Hakes struggled. She wanted to write about politics, culture, history, the beauty and complexity, the rhythms and the textures of this place she loved; also, about the murkier interpersonal stakes of these ideas. She felt worn out and not up to the task. "I was so exhausted that I was like, 'I have to have fun with this right now. I have to remember that I like to write because right now, it's all kind of miserable and painful.'"
Trying to free herself, she began to write in Hawaiian pidgin, a language she both grew up surrounded by and was told by others — including her mother — to avoid out in the world. Hakes began to write pages in the collective voice that runs through the novel, grounding and propelling the book, and it was in these rhythms, through this shifting and miasmic "we," that the first bits of "Hula" came. When Hakes first read through these pages, she was thrilled — less as a writer, she says, than as a reader — to see and hear suddenly these voices she'd carried with her, lived inside of, for so long.
The "we" in the published book comes to feel like a low thrum of culture, temperature and texture, a chorus. But more than that, it's a cadence, teaching us how to move through the novel's time and space in a new way.
Hakes knew the feel was right, but it was a long and arduous process turning that initial thrill into a book. A manuscript sold quickly to Simon & Schuster's Scribner imprint, but then, Hakes' editor left and abandoned the book (known aptly in publishing as being "orphaned"). Hakes floundered for a couple of years, trying to find someone at Scribner who could see and help usher forth her vision, only to eventually have to enter litigation to retrieve the rights to the book.
At each beat, Hakes, lacking a master's in fine arts or much confidence in her work, was forced to fight for it. "I felt like I had to build this path forward to try to make this accessible to the world while adhering to the cultural protocols and parameters that aren't necessarily well-known in the publishing arena," she says.
Then, with the help of her agent, Sarah Bowlin, she found that path — in a new editor, Daniella Wexler, at a new house, HarperVia.
"She wanted her community to feel seen by this story, and for the rest of us to glimpse a version of Hawaii we don't know," says Wexler, who had actually been outbid on the novel when Hakes first went out with it. "I loved her vision from the start and knew that meant letting her guide me as much as I was trying to guide her."
As Hakes writes late in the novel, "Hula is written within the swirls of our feet. It's our umbilical cord, our pulse. Our battle cry, our death rattle, our moment of conception." Although the book never gives us full access to the sacred knowledge of any individual dance, it's hard not to feel each beat — a yearning for and a deep knowledge and love of both this practice and this place — somewhere deeper in your belly by the end.
Strong is the author, most recently, of the novel "Flight."
Source link