ST. LOUIS — 
The Dodgers were behind the eight-ball from the start of Thursday's game.
Their rotation depth was running thin, in the wake of Dustin May's forearm injury Wednesday. Their bullpen was overworked, having thrown 21 innings the previous three days. And they were beginning a tricky 10-game trip, starting with a four-game series against the suddenly scorching St. Louis Cardinals.
What the team needed was an ace-caliber performance from Julio Urías — the kind of shutdown, bullpen-saving start that could reset the pitching staff and start the weekend with a strong opening statement.
What they got instead was a blowout marked by some ignominious history — with Urías giving up a single-inning franchise-record four home runs in the third inning of an eventual 16-8 defeat at Busch Stadium.
"I missed, and I missed badly," Urías said through an interpreter. "I paid the price for it."
Indeed, despite a late comeback attempt from the Dodgers offense — which briefly got back within one after being sparked by a grand slam from Freddie Freeman for his 300th career home run — Urías' implosion was too much to bear.
With the Dodgers (28-17) leading by two in the bottom of the third, the left-hander hung a first-pitch changeup to Willson Contreras that was sent to center field for a three-run blast.
Then, with two outs in the inning, Urías served up three consecutive solo blasts to Juan Yepez, Nolan Gorman and Paul DeJong — on three more pitches he left dangling over the middle of the plate.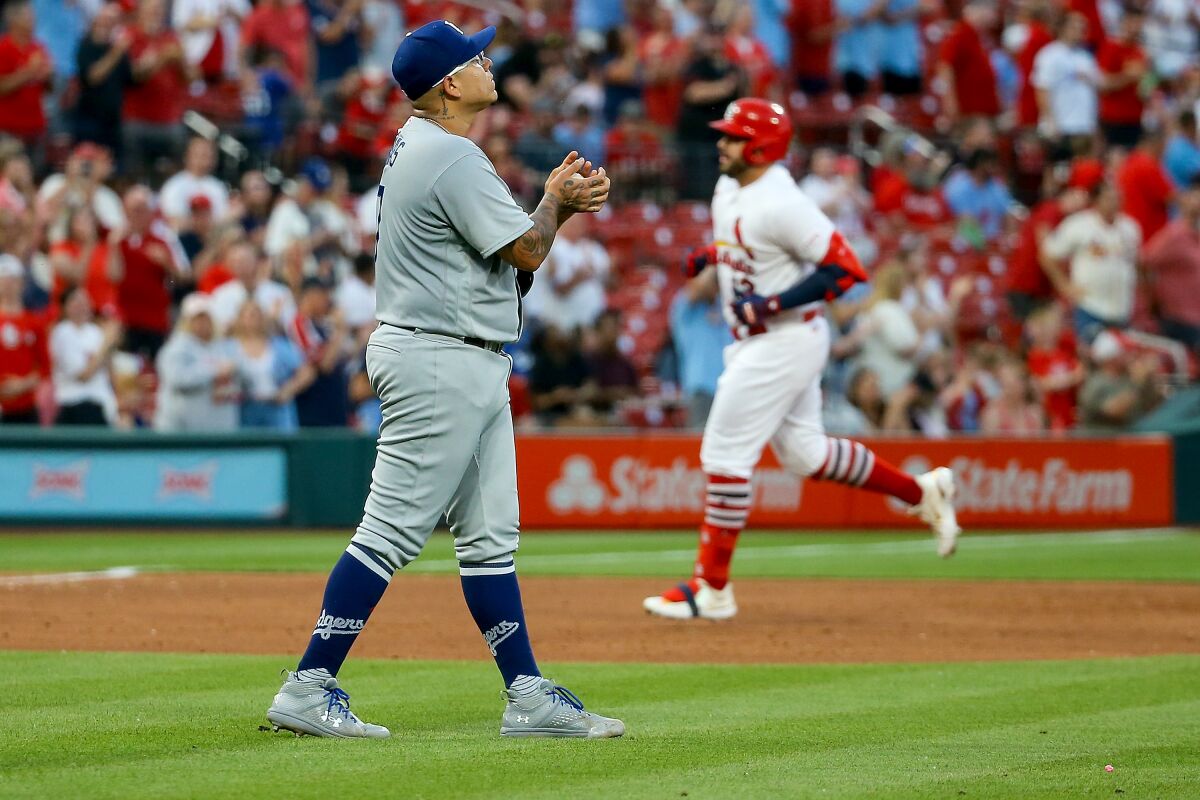 "Those guys are swinging the bats well," manager Dave Roberts said of a Cardinals club that, after an alarmingly poor start to the season, has now won nine of 11 games. "When you come across a team like that, and you're behind, and you're making pitches out over the plate, they're gonna make you pay. That's what they did tonight."
Urías has now given up 14 home runs in 10 starts this season, tied with the Kansas City Royals' Jordan Lyles for most in the majors.
Neither Urías nor Roberts were sure if the southpaw was tipping his pitches — though Roberts acknowledged that the Cardinals (19-26) "seemed like they were on everything."
Neither offered much of a concrete explanation for Urías' recent home run problems, either, with the 26-year-old having now yielded multiple homers in half of his outings.
"It's obviously worrisome," Urías said. "It's one of those things where, I'm not hiding from it, but I got to do a better job."
Added Roberts: "Clearly, he's making a lot more mistakes than we're accustomed to."
The four-homer frame was so rare, it tied a dubious franchise record, marking the first time a Dodgers pitcher had surrendered that many blasts in a single inning since Ben Wade in 1954.
It had almost been as long since the Dodgers last won a game after facing a seven-run deficit (1950), which is where they found themselves after reliever Phil Bickford gave up three more runs in the fourth to make it 9-2.
Yet, by the start of the eighth, the had clawed back within one, scoring six straight runs between the sixth and seventh innings to get themselves back in the game.
Freeman provided the biggest contribution, hammering a sixth-inning grand slam to center.
"You wish you do these things in wins," Freeman said, with flutes of champagne from the team's postgame celebration for his 300th career home run still dotting the clubhouse. "But it's still pretty cool."
Max Muncy then made it 9-8 with a solo blast in the seventh — amplifying the momentum long reliever Andre Jackson had supplied with three scoreless innings out of the bullpen.
The Dodgers, however, never went all-in on trying to rescue the game.
Mookie Betts was removed for rest in the fifth, when the team was still down seven. And rather than dip deeper into an already depleted group of relievers in the eighth, Roberts tried to get one more inning from Jackson instead — a decision that ultimately sealed the club's fate.
Jackson gave up one key insurance run on a Lars Nootbaar single, and left two other men on base when he was finally lifted with one out in the inning.
Yency Almonte was summoned next, but suffered his own capitulation, allowing the Cardinals to rack up six more runs in a rally punctuated by more homers from Contreras and Gorman — giving the Cardinals seven long balls in a home game for the first time since 1940.
"We showed some life, showed some fight," Roberts said. "Unfortunately, we just ran out of steam at the end."
Source link