Imagine if Stan Kasten was the president of the Dodgers when Jackie Robinson was about to break baseball's color barrier.
Kasten might have sent Robinson back to the minor leagues, citing the "strong feelings of the people who have been offended" by Robinson's inclusion on the roster.
Being on the right side of history requires a backbone, and this version of the Dodgers doesn't have one.
Being on the right side of history requires conviction, and this version of the Dodgers doesn't have any.
They're just another blood-sucking business.
That would be their prerogative, except they continue to champion themselves as more than a baseball team, as agents of social change. Now, this effort to profit from their legacy of inclusion has backfired on them, imperiling one of their celebrated new traditions.
The Dodgers were told Thursday by the Los Angeles LGBT Center to cancel its annual Pride Night. The American Civil Liberties Union of Southern California said it wouldn't participate in the event, which is scheduled for June 16 at Dodger Stadium.
The reason: To pacify religious and political extremists, the Dodgers scrapped plans to bestow a Community Hero Award to the Sisters of Perpetual Indulgence, a self-proclaimed "leading-edge Order of queer and trans nuns" that uses satire and drag to call attention to sexual intolerance and raise money for nonprofit organizations that benefit underserved communities.
The honoring of the Sisters was protested by a handful of conservative Catholic leaders and bottom-feeding Sen. Marco Rubio (R-Fla.), who argued the charity group was "anti-Catholic." The Dodgers folded as quickly as they did last year in the National League Division Series against the San Diego Padres.
"Given the strong feelings of people who have been offended by the Sisters' inclusion in our evening, and in an effort not to distract from the great benefits that we have seen over the years in Pride Night, we are deciding to remove them from this year's group of honorees," the Dodgers said in a statement.
In other words, the Dodgers didn't want to alienate a segment of their customer base, no matter how backward its views. Dollars spent by the homophobic and transphobic fans are still dollars.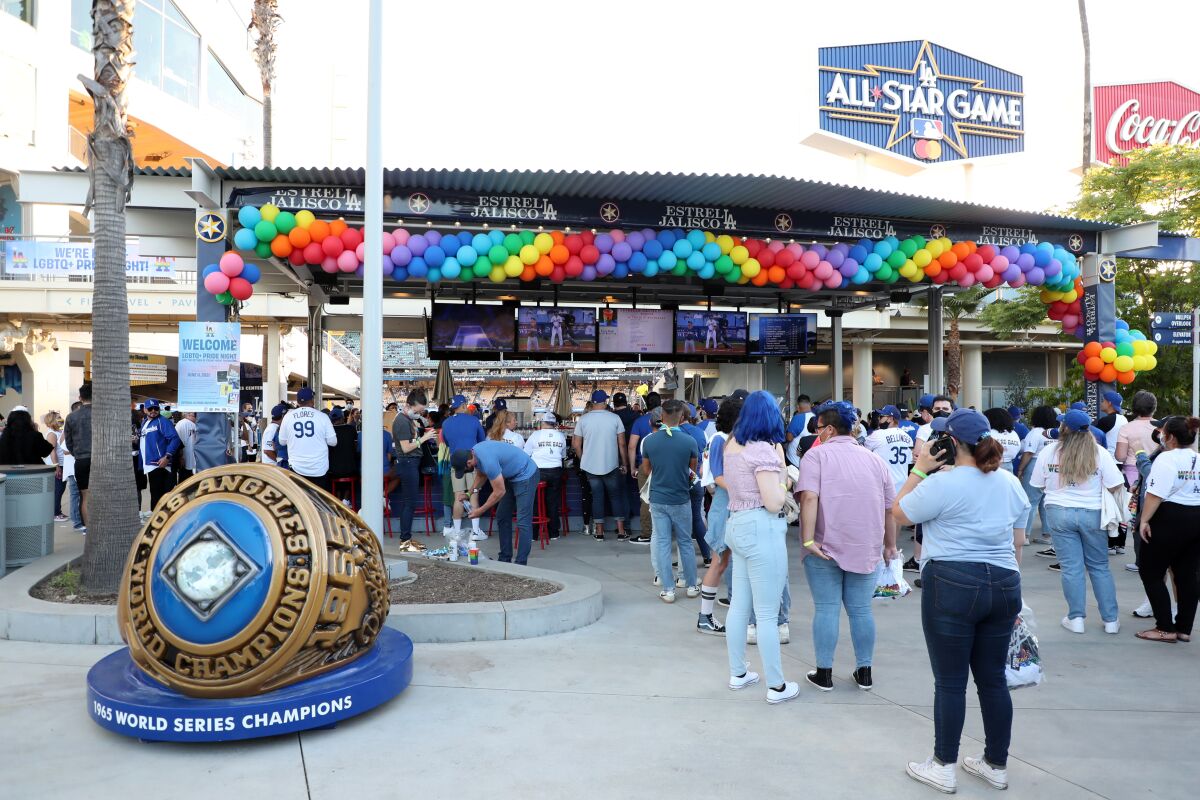 But if the Dodgers were altering their Pride Night plans because of potential financial ramifications, what did this say about how they viewed Pride Night? Was this also just a money grab? Was this not about showing solidarity with a community that remains under attack to this day?
It's not as if the Guggenheim Baseball Management is known for caring about its fans. These are the same owners who have continually raised the cost of tickets and parking. These are the same owners who signed notorious knucklehead Trevor Bauer because he agreed to a bargain deal.
To their credit, the Dodgers stuck out their necks when they held their first Pride Night in 2013. Pride Nights weren't as common as they are now, and they even encountered opposition from their own players. The Dodgers nonetheless went through with the event, a decision people in the organization reflect on now with, well, pride.
The Dodgers have since developed a reputation as one of the most gay-friendly organization in sports, counting Billie Jean King as one of their owners and Erik Braverman as part of their front office.
So what changed? Why did the Dodgers suddenly cave to a U.S. senator who is obviously trying to distract the public from the debt-ceiling crisis? In a place where a significant number of Catholics embrace sexual diversity, why are religious extremists keeping the Dodgers from honoring a group that hosted some of the world's first fundraisers for AIDS victims?
The team isn't saying.
"We are in discussions and listening to everyone," Kasten wrote in a text message. "But I'm afraid I can't say more than that just yet."
Whatever led them to make this decision, the Dodgers look as if they want the LGBTQ+ community's money without offering anything in return other than a special jersey that comes with a Pride Night ticket package.
The Dodgers should know better than to listen to the bad-faith arguments of CatholicVote President Brian Burch, who called the Sisters of Perpetual Indulgence a "hate group." There's a difference between mocking one's longtime oppressors — even if that includes sexually charged language used by the Sisters — and inciting violence against them. Listening to Burch, you'd think the Sisters were providing religious justification for legally restricting rights of Catholics.
"No other religion would be treated this way," Burch wrote, as if Catholics were being systematically rounded up and sent to Guantanamo Bay.
Pride Night remains nearly a month away. The Dodgers can reverse their decision, admit they made a mistake and honor the Sisters as was originally planned. Not everyone would be convinced of their sincerity, but the gesture would be a valuable first step in building back trust.
Otherwise, they'd be admitting they don't stand for anything. They wouldn't just be neglecting their responsibilities as civic leaders. They'd be practicing bad business.